BlueMind Notifier 1.1
Create a visual and audible notification for appointments and new email without keeping open the web interface.
Release date: April 17, 2014
Utilities
BlueMind target version: all
If you need this add-on for a different BlueMind target version, check the other add-on versions in the right side column. You may also contact the add-on author to ask for support for a given target version.


(1 vote)
Screenshots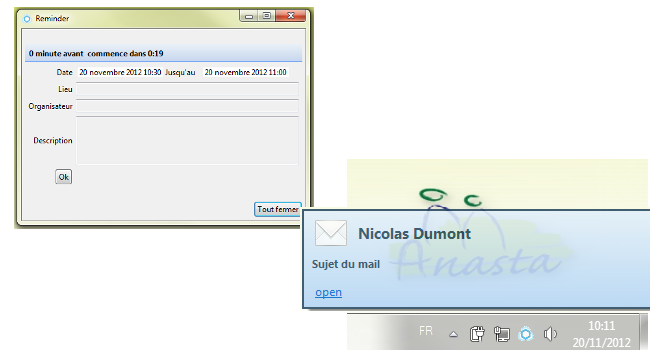 ---
Many users do not wish to keep opened their web browser at all time. In this case, they are not warned of any new mail, nor reminded of their appointments.
"BMNotifier" connects to your BlueMind server and check (via webservice and imap) new mail  and future appointments.
You receive a notification with subject and sender for each new email. You also have a direct link to access the e-mail without having to authenticate.
Appointments are checked periodically and a reminder window (with sound) opens on your desktop when expected.This window shows the name of the event, a countdown to the event's begining, date/time of start and end, location, organizer and description. This window can display multiple events.
The plugin also allows direct access to the webmail without having to authenticate with a simple double click on the icon in the system tray.
Google chrome extension: the application also allows the use of a google chrome extension that provides authentication and adds a BlueMind icon for direct access to the webmail.
---
Installation instructions
javaw -jar BmNotifier.jar
---